Sports Reporter, Presenter & Creative Producer
My name is Samantha van Wijk, sports journalist, presenter, creative producer and director. I have a huge passion for sports, live broadcasting, interviewing, storytelling and creating unique content. It's an honour to work at some of the biggest sporting events in the world in a variety of sports, from football, MotoGP, Formula 1, to cycling and more.
In addition to following sports and athletes closely, I almost never avoid any athletic challenge myself either.
Besides working in broadcast television, I produce online video content, podcasts and radio. And I'm working on a documentary film.
FIFA TV (FIFA Women's World Cup AUS+NZ 2023 / FIFA World Cup Qatar 2022 / FIFA Arab Cup Qatar 2021 / FIFA Women's World Cup France 2019)

UEFA TV (UEFA Women's Euro UK 2022 / Champions League Magazine / Europa League)

Eurosport (MotoGP / Magazine The Power of Sport) x GCN (cyclocross)

ALLsportsradio (Sam's Race Stories)

NUsport (F1, football and other sports)

Helden Media (Power Women Podcast)

Veronica (Volvo Ocean Race)

SBS6 (GoCycling / 6 Inside Sport)

RTV NH (NH Sport live from the AZ stadium)
I also work as an event facilitator and host, national and international. The experience I have from hosting talk shows and as a journalist is very useful to lead discussions and to convey the message. I'm known for my good preparation, enthusiasm, curiosity, humor and improvisational ability. I sense the audience well and there is always interaction. I have more than 10 years of experience in hosting events. What I like most about it is that I get to cooperate and think with the most varying organisations. Together we will take every event to the highest step of the podium!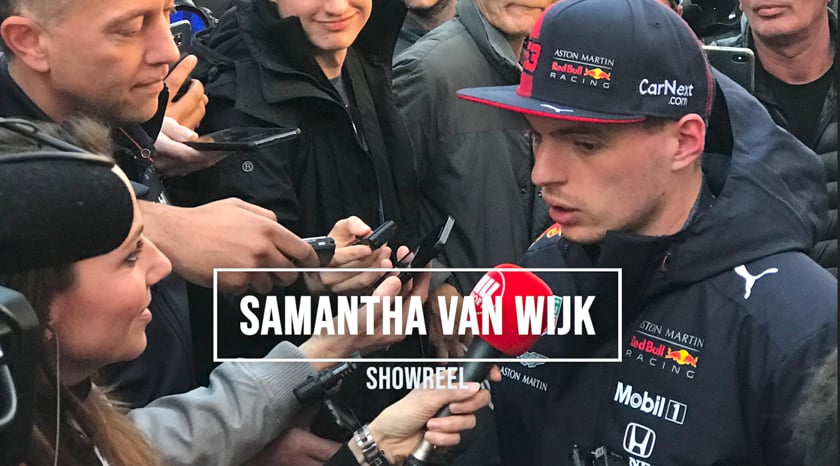 Contact
Would you like to book me as a presenter, host or work together on a program or project? Please contact me via e-mail and I will reply to you as soon as possible.
Samantha van Wijk
E-mail: info@samanthavanwijk.nl
Follow me on Social Media